Pagi ni we started our day early... at 7am kitorang dah ready to check-out. Around 7.10am we were already at Amsterdam Central. Had our morning coffee kat one of the cafe kat Amsterdam Central. Train kitorang pagi tu around 9.00am rasanya. Dari Amsterdam ke Brussels, sekali lagi kitorang naik Thalys train. Alhamdulillah.. this time merasalah naik 1st Class. Beza 1st Class and 2nd Class adalah seat dia.. kalo 2nd Class, the seats are 2seats in each row.. tapi 1st Class, seating dia different sket.. it's 2seats in one row and 1 seat on the other row and 1st class passengers are served with food and beverages which is free.. eh ye ke?? ke dah included dalam fare..hehehehe.. sorry aku tak sure.... Whereas 2nd class kena ke in-train cafe to purchase their meal.
wannie's
mine
We reached Brussels about 2 hours later that is around 11am. The train stopped at Brussels Midi. Our initial plan was to go round to some interested places in Brussels within the vicinity of the train station. Brussels Midi ni kelam kabut la station dia... even the people pon tak helpful :( With some help from the tourist centre, we managed to get to the underground train station with the station is in the same building. Fare for the underground train tak hengat lak aku brapa Euro. Kitorang stop kat Grand Palace station sebab nak ke Grand Palace. Grand Palace ni tempat dia cantik.. kalo time musim bunga, dorang akan atur bunga tu jadi cam carpet kat depat Grand Palace tu.. time aku pi dah hujung winter kan.. so kosong jek la.. takde pape...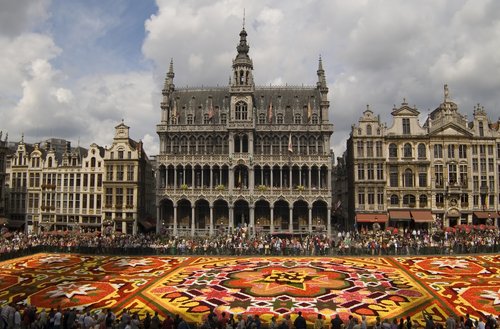 inilah rupanya flowers carpet kat Grand Palace ni.. *googled*
Since we were out of euros plus aku bengang ngan orang-orang kat Brussels yang tidak helpful plus bawak beg berat, so lepas ke Grand Palace ni kitorang tak ke mana.. just lunch kat Sultan Kebab je... sekali lagi.. makan doner kebab. It was nice of the people in Sultan Kebab warning and reminding us to take good care of our goods.. walaupun bagpack besar dan berat, orang jahat can simply snatch it from our table.. apa lagi kalo camera or phones kan... banyak orang jahat rupanya kat Brussels nih.. even dalam underground train tu pun laki aku dah terasa-rasa wallet dia bergerak-gerak dah... alhamdulillah selamat... snatcher tu tak dapat grab his wallet...... Dah setel makan, terus la ktorang balik ke Brussels Midi.. duduklah melengung kat situ sementara nak tunggu train ke London depart. Aku time dah balik dari Grand Palace tu memang dah takde napsu nak snap gambo dah... ntah la.. tetiba mood lari... mungkin sebab beg berat and tempat pon kureng best kot???
Around 2.56pm kitorang depart for London on Eurostar. We arrived at St. Pancras International dalam pukul 4.30pm camtu la.. then from there we took circle line tube kalo tak silap untuk ke Mara House di Paddington. Fare tuk tube adalah GBP4.30. We reached Mara House about 10 minutes later.. alhamdulillah.. the Mara House is quite near to Paddington underground station. Kat Mara House ni we've got separate room. Of course la aku sebilik with my husband and wannie is in another room. Waaaaa... dapatlah we all honeymoon... hahahahahaha... gedix.... Malam tu we had our dinner in Wannie's room and planning for our programme for the next day.